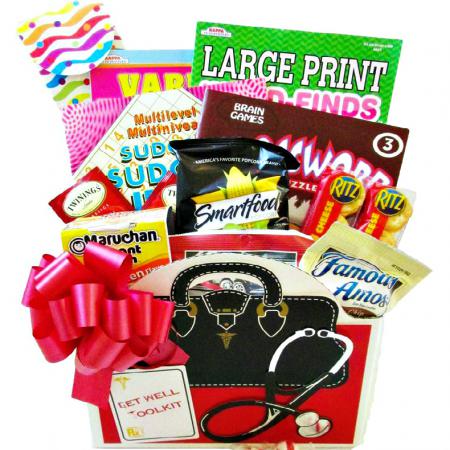 Get Well Toolkit for Men and Women
Get Well Toolkit for Men and Women
1
Average rating:

Read all reviews
Brighten their day and lift the spirits of under-the-weather friends or family. Get Well Toolkit for Men and Women with Puzzle Books, Soup, and Crackers includes all the tools to help make recovery time better.
Gift Basket Includes:
Boredom buster Variety puzzle book with all types of pencil puzzles.
Word Search puzzle book for hours of entertainment.
Engaging Sudoku puzzle book with easy to hard levels.
The crossword puzzle book America's favorite kind of puzzle book.
Chicken noodle soup mix just add water, heat and eat.
Nothing goes better with soup than crackers so we include two packs of Ritz crackers with cheese.
Pretzels a great snack that's easy on the stomach snack size bag.
Smart Foods white cheddar popcorn a gluten free all natural snack.
Famous Amos chocolate chip cookies 1 oz. bag.
Two tea singles, because sometimes a hot cup of tea is just what the doctor ordered.
Hard candies because let's face it fresh breath is always appreciated.
Diverting Get Well Toolkit arrives fully assembled and ready to give. It's wrapped in a clear cellophane bag and topped with a bow then bubble wrapped and shipped in a box to the recipient. Gift measures 10"L x 6"w x 14"h.
SKU# BB GWTB05-PL / DS2108
Click
here
to view more Get Well gift baskets and gifts
Get Well Toolkit for Men and Women
1
Average rating:

Read all reviews
Reviews:
Get Well Toolkit for Men and Women

Loved it!
09/11/2017
Sent the "Get Well Toolkit" to someone who had an outpatient surgery and she LOVED IT! She thought the basket was put together just for her - contained all the things she needed for her at home recovery. I will definitely look at Adorable Gift Baskets next time I need to send a gift! Thanks for a quality product!