When it comes to Christmas gift baskets,

this one takes the cake!
Standing two feet tall and over two feet wide, this GORGEOUS gift will take their breath away! They will be delighted as they discover all of the amazing treats tucked inside.
Make this a Christmas to remember by sending your best holiday wishes in an old-fashioned sleigh overflowing with unique keepsakes, gifts and the most decadent gourmet treats from around the world!
This basket is one of our largest Christmas gift baskets, making it perfect for an office or large family!
Christmas Basket Contains:
An Assortment of Decadent Chocolate Truffles

Milk Chocolate Coconut Clusters

A Collector's Holiday Tin Filled With Delicious Assorted Danish Butter Cookies

Almond Cranberry Popcorn Mix

Milk Chocolate Covered Cherries

Cookies and Cream Crunchers (Premium White Chocolate coated Cookie Morsels)

Chocolate Peppermint Filled Wafer Cookies

Assorted German Chocolate Cookies

Vanilla Cream Filled Wafer Cookies

Chocolate Truffle Cookies

White and Dark Swiss Chocolate Hazelnut Zebra Cookies

Classic Thin Ribbon Candy

Almond Roca (Buttercrunch Toffee with Chocolate and Almonds)

Irish Cream Truffles

Creamy Chocolate Walnut Fudge (1lb)

A Large and Delicious Tiramisu Swiss Roll Cake

"Smooth N' Melty" Petite Mints

Delicious Cherry Liqueur Chocolates

Shortbread Cookies Dipped in Chocolate, Nuts and Toasted Coconut

A Holiday Gift Box of Tea

Chocolate Caramel Peanut Clusters

A Festive Red and White Sleigh Bell Ornament
All of this deliciousness arrives artfully arranged in a hand-painted, metal embossed, old-fashioned, keepsake sleigh, which is decorated with festive holiday picks and a designer bow! Just imagine their excitement when this gift basket comes dashing through the snow right to their front doorstep! This impressive gift basket is an utterly stunning way to help create a Christmas to remember!
This Gift Basket Comes With Free Ground Shipping!
Click here to buy the Christmas Gift Basket online.
Holiday Gift Ideas, Unique Christmas Gifts
Quality and Presentation is Everything. Send a Gift Basket You Would Love to Receive Yourself.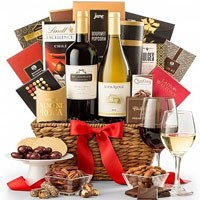 Wine Gifts & Baskets
Premium quality wine boxed elegantly or paired with fine gourmet foods. The perfect gift for the wine connoisseur or casual wine lover.
Give a unique
wine gift basket
to someone special. Choose from a large variety of wine baskets and wine gifts that are sure to match their taste.