Christmas is a great time to show your child's teacher how much you appreciate all the effort he or she gives the class every day.
A thoughtful gift expresses your thanks for the teacher's patient instruction, encouraging words and time spent outside of work grading papers and tests.
While it can be tough to find just the right present, here are a few practical ideas that are sure to be a hit.
Edible Gifts
A box of tasty, good quality chocolates, a package of cookies from the local bakery or a gift basket filled with treats make wonderful gifts. Your child's teacher can eat them right away, savor one a day for a few weeks or share them with family at the holiday get-together.
Gift Cards
Most teachers love to get gift cards for coffee, goodies or lunch. They can choose the specific item they most prefer, and if they get several cards, they can use them throughout the year. The local Starbucks, Cold Stone Creamery, Applebee's, Panera or similar establishments are all great sources for gift cards.
Vouchers or Gift Certificates
Give the teacher a voucher or gift certificate for a fun activity she can enjoy with her family. If the family has younger kids, a voucher to a zoo or aquarium might be appreciated. If the teacher likes a little adventure, then a voucher or gift certificate for zip lining or a rock climbing wall could be the perfect gift
Classroom Items
Teachers frequently spend their own money to decorate the classroom and provide supplies to make it a welcoming, nurturing environment for young learners. The price of colorful dry-erase markers, cheerful Post-it notes, stickers, books for the classroom library, tissues and hand sanitizer can add up over time. Ask for a classroom wish list and purchase a few items off the list. If you'd like to give a larger, more costly item for the classroom, recruit the other classroom families to chip in for a group gift.
Consult your child's teacher for ideas, or make a few suggestions. Perhaps the classroom could use an entire set of the hottest new book series or standing desk converters so students can reap benefits like improved physical and mental well-being and decreased sedentary habits.
This year, rather than giving your child's teacher another mug or apple ornament, try giving a practical gift that can be put to good use.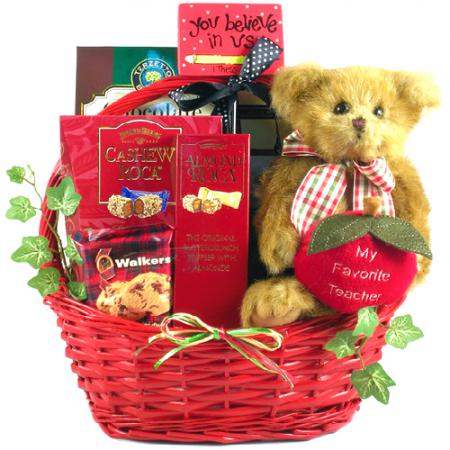 My Favorite Teacher Gift Basket
Reg. Price $76.00
You Save $6.05
Any teacher is sure to feel special when they receive this collection of gifts and gourmet goodies designed exclusively for teachers.
This Gift Basket Comes With Free Ground Shipping!
Teacher gift baskets are a great way to show your appreciation to a teacher. This delightful teacher gift basket makes a great holiday gift for teachers or a nice end of school year gift. This cheerful collection of gifts features a collectible Bearington "My Favorite Teacher" bear, alongside some of our most delicious gourmet goodies!
This thoughtful gift basket for teachers includes:
Apple Scented Plush Bear From The Bearington Collection With "My Favorite Teacher" Apple
Almond Roca (Almond Chocolate Toffee)
Cashew Roca
Chocolate Chip Cookies
Chocolate Salted Caramel Cookies
Shortbread Cookies
Sugar Cookies
Customers Who Bought This Item Also Bought
Click here to view more gift baskets online