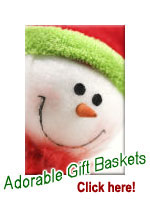 Holiday gift baskets make wonderful and inexpensive Christmas gifts
for loved ones, co-workers, business associates, clients and close friends.
Whether you have one person to buy for or several hundred, as you browse our online holiday gift basket catalog, you'll feel like you've just switched places with Santa Claus!
With so many beautiful Christmas gift baskets to choose from, you can plan ahead without worry!
Pre-ordering holiday gift baskets is easy. Simply browse our Christmas holiday gift basket catalog, make your gift basket selection, click "add to cart" and follow the prompts to checkout.

In the checkout area you will find a space to enter your desired shipping date.

It's just that easy to pre-order your holiday gift baskets online.
Pre-ordered gift baskets always receive priority service during this busy season and by planning ahead you ensure availability and that your gifts will arrive on time. But the sooner you get started the sooner you can relax and enjoy the holidays.