Fun and festive, this whimsical holiday gift basket will brighten up their holidays. A Christmas holiday gift basket that's jolly and cheerful.

Christmas Cheer Gift Basket
Make a stunning holiday presentation this Christmas with our beautiful, bold Christmas gift basket! A festive holiday gift arrangement that's perfect for everyone.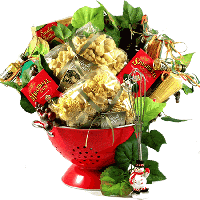 Italian Christmas Basket
Not sure what to give your business associates, best friends, or family this holiday? Everyone will love to receive this beautiful gourmet Italian dinner gift basket for Christmas. 3 sizes available.

Christmas Elegance Gift Basket
Generosity abounds in this classy Christmas gift offering a delicious sampling of fudge, gourmet cookies, artisan chocolates cheese and more. A perfect holiday gift for the office or the home.

Christmas Cargo Gift Basket
High-end, handcrafted antique truck delivers a delicious load of Christmas gifts perfect for the hard to buy for man in your life. This one-of-a-kind keepsake gift will remain a treasure for years to come.

We Believe Christian Christmas Basket
A glorious holiday gift basket celebrating Christmas and Faith delivering delicious goodies alongside beautiful Christian gifts they will treasure. Makes a welcome holiday gift in any home.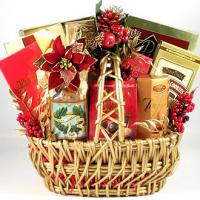 Nite Before Christmas
Our Night Before Christmas gift basket is a great way to create special Christmas memories and celebrate the holiday season with warmth and comfort.

Christmas South Of The Border
This vibrant basket is a great gift for people who like incredibly delicious southwestern style food. A fun, festive gift basket idea to give or receive!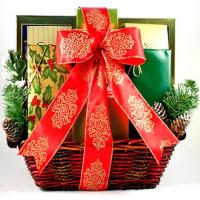 Deluxe Christmas Basket
This stunning holiday basket offers a collection of large quantity items making it the perfect Christmas gift basket for an office party or large family gathering.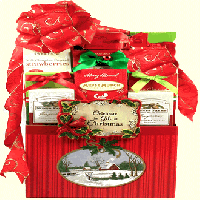 A Christmas Celebration
This big, beautiful Christmas gift box arrives filled with a huge assortment of delicious holiday treats, along with a very touching keepsake Christmas plaque.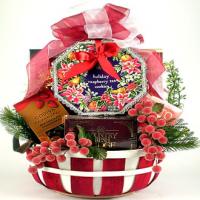 A Very Berry Christmas
This festive, berry themed holiday gift basket makes a great office gift or cheerful Christmas gift for clients, family and friends.

Christmas Classic Gift Basket
Our classic Christmas holiday gift basket features festive holiday styling and overflows with sweet holiday gifts for delivery.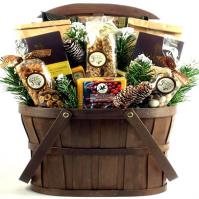 Rocky Mountain Christmas
Send this big, rustic gift basket filled with a generous selection of scrumptious gourmet food. Great for Christmas or any occasion.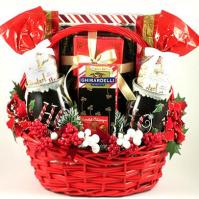 Candy Cane Christmas (X-Lg)
Hand selected holiday gifts and goodies create one of our sweetest holiday gift baskets of all time! An absolutely stunningly holiday gift basket that could not be any sweeter!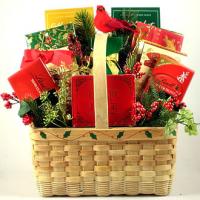 Country Christmas Basket
Lovely Christmas gift basket filled with a delicious holiday sweets and goodies arranged in a willow basket with a keepsake cardinal and festive designer ribbon.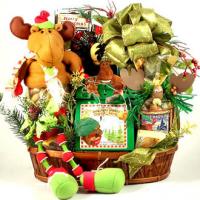 The Christmas Moose Is Loose
br>Say Merry Christmas moose-style with this rustic gift basket including an adorable holiday moose with long dangling legs and a belly full of cookies plus holiday treats and treats.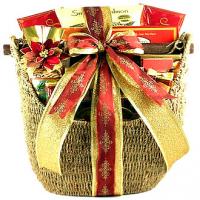 Majestic Christmas Gift Basket
Deluxe holiday gift basket features a generous assortment of gourmet food packed inside a stunning magazine rack that will look amazing in any home or office.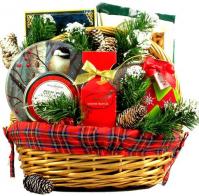 An Old Fashioned Christmas
Relive the days of old with this breathtaking, over-sized holiday basket. Arrives trimmed with frosted pine, berries, Christmas bow and holiday food.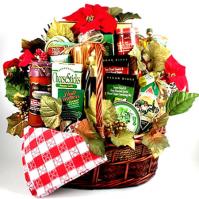 Deluxe Italian Christmas
Over-sized Italian Christmas family gift basket stocked with Italian specialty food. They can create their own savory gourmet, chef style Italian meals. Magnifico!

Christian Christmas Gift Basket
Exquisite holiday gift basket featuring a wonderful selection of meaningful Christian Christmas gifts and gourmet food artfully arranged in a stunning gift basket.

Christmas Party Deluxe
Bigger, better, lots of style and perfect for any holiday office party or family gathering. This eye-catching beauty arrives overflowing with holiday favorites. A Christmas party just waiting to happen.

Click
here
to buy gift baskets online