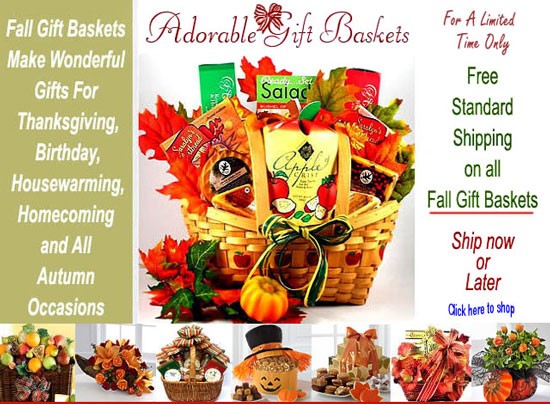 Gift baskets are designed to hold everything that you wish to express.
And the person who receives your gift will appreciate your thoughts and wishes. Giving gifts in baskets is one of the oldest, most treasured traditions in the world. People have been making – and giving – baskets for more than 10,000 years! In every corner of the world, baskets are the oldest hold-it-all and give-it-all present made by human hands. Some people even think that we got the idea from Nature's own gift basket – a bird's nest that holds the gift of newborn baby birds. Is it any wonder that baskets have come to symbolize the bounty of nature – from the basket cornucopia of classical Greece to the heaping bushel baskets of crisp, red apples that you see in the farmers' market today.
Our gift baskets carry on this age-old tradition
, offering a charming selection of treasures for every occasion. Whatever you want to celebrate – from a holiday to a thank you to a heartfelt welcome – we help you express your fondest thoughts. You'll be looking for an excuse to give one away. From the beauty and quality of the basket itself to the design of the decorations and special accents, each gift basket sparkles with charm. The contents are carefully selected for quality and beauty, chosen with care to provide a complete array that reflects the theme and mood of the present. Just when your lucky recipient thinks that it's the bottom of the basket, there always seems to be just one more special item tucked away.
There are so many reasons to give gift baskets.
A gift basket is a wonderful gift idea to celebrate any holiday, birthday, anniversary or to mark a special accomplishment. What a perfect house gift when visiting friends and family, to thank them for sharing their hospitality with you. Or give a housewarming gift basket to welcome them to their new home – their first apartment, their first house, even a welcome to their first dorm room! To express your sympathy for a loss or as a boost for someone who is ill, a special basket can let them know that you are thinking of them in their time of need. Or, send a gift basket
just because
– there's no better reason than simply that you are thinking of them.
We take great pride in providing a complete balance in our gift baskets.
In fact, for every occasion, just about everything they will enjoy is included – from gourmet food and sweets to those touching little extras that make a basket a complete gift. Each item is chosen with care, to make sure that it meets our strict standards for quality and taste.
It is so easy to give a basket to that special someone.
Just select the gift basket that you want to send from our detailed descriptions on line. You can place your order from wherever you are – at home or when you're on the road. We'll take care of the rest! Gift basket shipping is free, but express delivery is also available. You can schedule in advance for a holiday, birthday, anniversary or other special occasion; we'll make sure that it's there in time. Payment is easy, with major credit cards or PayPal. And rest assured that our web site has the highest level of encryption to keep your personal information safe. You can also track your order as it speeds its way to your recipient. If you have any questions or concerns,
just contact us – we're here to help
!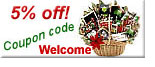 Click
here
to buy gift baskets online