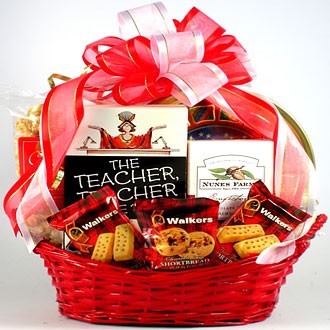 Finding The Perfect "Thank You" Gifts For Your Child's Teachers
When thinking about "thank you" gifts, you should ask yourself: who is one of the most important people in your child's life? Other than family, teachers come in at a close second. A good teacher can shape your child's educational ideas, give him a desire to learn, and even become a friend or counselor when things aren't perfect in his life.
Because of this, it's important to let the teacher know at the end of the year that you appreciate her and all of the effort she put into teaching your child. And what better way to express those feelings than with a
thank you gift basket
. Just visit any school on the last day of the year and you'll likely find the parents carrying gift-wrapped boxes, bags full of warm store-bought pastries, home-made cakes and baskets stuffed with goodies.
But how do you know what to give? After all, you probably don't know the teacher outside of the classroom, so you won't be privy to her hobbies and personal interests. Based on that, you'll have to find the perfect "Thank You" gift!
Here are a few great gift ideas for teachers.
First, everyone knows that apples are for teachers, so you can look for cute "thank you" gift items that feature apples. You could buy apple shaped accessories for her desk at school, apple dishtowels and pot holders for her kitchen, or even a fruit gift basket
filled with fresh delicious fruit.
If you want to do something original, think about thank you gifts that focus on pampering gift baskets. Who doesn't like to be spoiled?
Relaxing gift baskets
are filled with bath and body products such as creams, bath beads, fragrances, candles and powders will delight just about any teacher. Pamper spa gift baskets are beautifully wrapped and tied with a luxurious bow!
Gourmet food gift baskets
are always a great thank you gift ideas. Or, you can make your child's teacher something yourself—such as your specialty homemade cherry pie—or you can select or custom order something special for the teacher. Other great gift ideas are
snack food gift baskets
full of crackers and cheese,
fruit baskets
, or a pretty gift basket filled with
gourmet coffee or tea
.
Whatever "thank you" gift you decide on your child's teacher, don't forget to include the thank you note! Tell her how much you appreciate her. She just may like this part of the gift most of all!
Click here to view more thank you gift baskets online