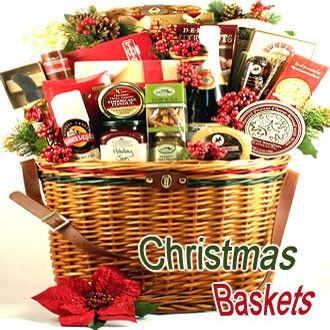 As the holidays approach not only do you have family to shop for? And, if you run a business you also need gifts for clients.
In either case, unique holiday gift baskets can ease your mind and make a grand statement at the same time. The best holiday gift baskets show that you have put some real thought into the gift. Your recipients will appreciate the effort – and the goodies tucked inside.
Holiday Gift Baskets: Ideas
Start by making a list of recipients and their interests. You'll use this list to come up with a theme for your personal and corporate holiday gift baskets. For example, if you want to give Christmas holiday gift baskets to the ladies in your Bible study group, you could go with a
Christian gift basket
theme. Similarly, you could send a unique holiday
sports gift basket
with a camping or fishing theme for the folks you know who go camping each year. Golf themed baskets are fun for your golfing friends, especially when stocked with high quality snacks and unique golf gifts.
Corporate holiday gift baskets
should appear personal without overstepping any boundaries. For example,
gourmet holiday gift baskets
are always luxurious and scrumptious and make a great holiday gift choice. On the other hand, a
Bath and Body gift basket
filled with personal bathing items such as soaps, body washes, bath salts, and exotic sponges would likely be too personal to give as a corporate gift. The same holds true for gift baskets containing wine and champagne. Reserve those gifts for those you know imbibe, preferably friends rather than clients.
Professionally Made vs. Handmade Gift Baskets
If you enjoy making your own gifts and have the skills and supplies to create
cheap holiday gift baskets
that look amazing, by all means, consider making your own gift baskets. If you're like the rest of the world and lack the time, skills, and patience for such an undertaking, order your
holiday gift baskets online
at Adorable Gift Baskets. Free gift basket shipping, expert craftsmanship, and affordable prices will reinforce that you've made a great decision.
In addition, you'll find plenty of ideas for unique holiday gift baskets simply by browsing our extensive selection of professionally designed gift baskets. Not sure what to send friends who are difficult to shop for? Browse our beautiful selection of
Christmas holiday gift towers"
and inspiration is sure to strike.
The holidays are on their way – are you prepared? Order your
unique holiday gift baskets
before the rush and rest easy knowing you've selected great holiday gifts that make a personal statement.
Click here to buy gift baskets online