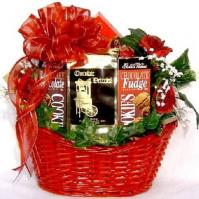 Chocolate Madness Gift Basket
$105.00
Extravagant chocolate gift basket overflowing with fine gourmet chocolates from around the world. The fortunate recipient will be delighted with every delicious bite.
Know someone who is mad about chocolate? Then this gift basket is the sweetest way to their heart! But beware, this extravagant gift basket offers such a generous supply of indulgent treats it could push even the most die-hard chocoholic over the edge! Adorned with silk ivy, silk roses and beautiful silk ribbon our Chocolate Madness gift basket makes an irresistible gift that they will never forget!
Chocolate gift basket includes:
Triple Chocolate Bliss Cookies
Handmade Key Lime White Chocolate Cookies
Creamy Chocolate Smothered Grahams
Decadent Belgian Chocolate Truffles
Italian Chocolate dipped Hazelnut Biscotti
Double Chocolate Biscotti
Chocolate drizzled Popcorn
Chocolate Caramel Nut Clusters
Creamy Dark Chocolate Filled Butter Wafer Cookies
Golden Walnut shaped Cookies
Rich Fudge
Raspberry Chocolate filled Golden Walnut Cookies

To send your wishes to someone on a birthday, holiday or any time of the year shows your kindheartedness toward that individual. Chocolates are an all-time favorite when it comes to gift choices. Many people adore chocolate and appreciate this delicious treat as a special gift. And today, you're no longer confined to giving just a "box of chocolates." There are many delightful chocolate gift baskets to satisfy the sweet tooth of your friend or loved one.

Chocolate gift baskets offer a magical opportunity to say, "I love you" or "I'm thinking of you!" Chocolate treats in a decorated basket make wonderful personal gifts and can be delivered to your loved one's doorstep with a personal greeting. Chocolate basket delivery can work for almost any occasion.

In the scientific world, chocolate has been coined as an emotional food. What better way to thrill the emotions of your mate or cheer a sick loved one, or even show sympathy for someone's loss? What better treat to offer on a birthday, holiday, or anniversary? Chocolates are often tucked into get well baskets, food baskets, and many others.

The occasions for chocolate-filled baskets are almost endless. Valentine gift baskets are often overflowing with chocolate delights. Holiday gift baskets often include a few chocolate indulgences. Easter gift baskets greet kids on Easter morn with chocolate bunnies. Even romantic gift baskets usually feature a few chocolate treats.

In the business world, you'll find corporate gift baskets or business gift baskets filled with chocolates to welcome a new client or to reward employees. Chocolate baskets provide numerous ways to demonstrate your thoughtfulness or gratitude. And, what treasures might your recipient discover in their chocolate gift basket? You guessed it - Godiva or Ghirardelli chocolates, caramels, chocolate pretzels, gourmet chocolate cookies, and a host of other chocolate assortments.

Adorable Gift Baskets offers many chocolate treats in our inexpensive gift baskets. You can browse gourmet chocolate lover gift baskets such as Godiva Pure Decadence, Chocolate Visions Cookie Gift Basket, Ghirardelli Gift Assortments, Say It With Chocolates, A Chocolate Gold Mine, Sweet & Savory Expressions, and many others. Gift basket delivery is right at your fingertips to anyone in the continental U.S., so go ahead and browse our selection of affordable chocolate gift baskets today.


Click here to view gift baskets online.