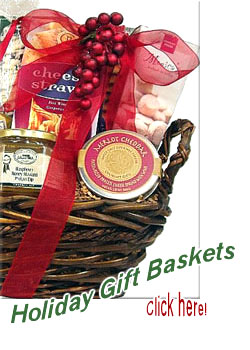 Ten Popular
Christmas Gift Basket Ideas
If you are stuck for an idea about what to get someone for Christmas, a gift basket is always a convenient choice. In addition to your typical fruit basket, there are so many creative Christmas gift options and countless ways to customize them. Here are just a few of the most popular Christmas holiday gift basket ideas.
(1)
Gourmet gift baskets
. Your recipients will love indulging in a specialty food basket, especially if it contains something rare or fancy that they are not likely to buy for themselves. Imported gifts, such as Italian or French products, are extremely popular. You can even find kosher and vegetarian gourmet gift baskets.
(2)
Coffee or tea gift baskets
. These baskets are usually a safe bet, even if you don't know exactly what type of gift someone might like. You might choose them for a corporate client or another recipient that you don't know well. People usually appreciate a selection of different flavors.
(3)
Chocolate gift baskets
. Chocolate comes in so many forms that you practically can't go wrong with a chocolate lover's gift basket. Candies, hot cocoa and cookies are just some of the sweet treats you can order. Get creative with novelties such as chocolate-covered fruit or similar gifts.
(4)
Dessert gift baskets
. For a loved one with a sweet tooth, chocolate is not the only option. Cheesecakes and cookies are just two of the many other available types of treats. You can order them ready to eat, or, for those who like to bake, as mixes with recipes to make your own.
(5)
Picnic gift baskets
. There is not much meal planning required of recipients of these fun gifts. The only thing they will need to complete their leisurely breakfast or lunch is the Sunday paper. Some examples of popular breakfast gifts include waffle, pancake or scone mixes, accompanied by syrups or preserves.
(6)
Movie night gift baskets
. These are fun for kids of all ages, whether they're hosting a screening for a large group or an intimate date night. Popcorn with seasonings and movie theater boxed candy are key components of these gift sets.
(7)
Regional or hard-to-find gifts
. Perhaps your sister moved across the country and is longing for a "taste of home." Many merchants specialize in "nostalgic" products or gifts that might be specific to a certain area of the country, for instance.
(8)
Fruit gift baskets
. Traditional holiday gift baskets have nearly always contained fruit, featuring some of the most beautiful types of oranges and pears, for example. This is a gift appreciated by many, especially those living in cold winter climates.
(9)
Bath and body, or spa, gift baskets
. Most people, men and women alike, love to be pampered. Soaps, lotions, and candles are just a few of the luxurious gifts that you can include in a spa gift basket. Pick a scent theme, if you know what they prefer, or provide a mix of various options for them to try.
(10)
Kids' gift baskets
. Treat the young ones on your Christmas list to a special surprise by choosing custom gift baskets just for them. Holiday baskets can be personalized for any boy or girl, incorporating themes like sports or books. Include a stuffed animal and some yummy snacks for a gift that is sure to be appreciated.
Sending
gift baskets for Christmas
takes very little effort. Buying them online requires a few simple clicks, and your selections are packed and shipped for you. When holiday shopping becomes stressful for everyone else, you can relax knowing that you have plenty of convenient and affordable gift options waiting for you.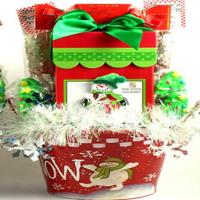 Best Selling Christmas Gift Baskets
Shopping for a Christmas gift can be a bit of a challenge. Deciding what to get that special someone in your life is only the first half of the battle. Finding something you like is the other half. A blouse for mother, slippers for Dad, a pullover sweater for your sister are all nice gift ideas to consider, but that's so
yesterday
. A gift basket is a better gift idea for so many reasons.
Christmas gift baskets make terrific gifts because they let you rest assured you will not have to return a gift that doesn't fit. They also delight the recipient with surprise after surprise as this person discovers the many special gifts inside the gift basket. Gift baskets also make your gift recipient feel important since a gift basket can be specially made to hold all the things your gift recipient likes.
How heartwarming is it to know someone cares enough about you to take the time to select a special gift basket just for you. Whether it's food, flowers or something else you know your gift recipient will be happy to receive, the list of gift baskets to choose from is extensive.
Children love gift baskets because they contain so many cool gifts. A young child will spend hours playing with the toys she or he gets. Older children may spend hours talking to their friends about all the nice gifts they found tucked inside their basket.
A Christmas gift basket is also suitable for a young child to give as a present since a parent can help the child select the gift basket. A gift basket is also a nice gift to send to a child who lives away from home.
Ordering a Christmas gift basket online is a convenient way to shop online. You never have to waste your time standing on long lines in the stores and you don't have to fight your way through crowded shopping malls in search of a gift.
And, wrapping gifts is a thing of the past. Wrapping the gift yourself is unnecessary when you order a Christmas gift basket online since the basket is elegantly wrapped for you for holiday gift giving. Christmas gift baskets are so beautifully wrapped, your recipient may just want to take a picture of it before using the gifts inside. Wrapped in true Christmas spirit, gift baskets are cherished by young and old alike.
As long as you have access to a computer to place your order online, or a fax machine to
send your order by fax
, you can shop for the perfect Christmas gift basket in the comfort of your own home or office and still have enough time to do something for yourself once you place your order.
Click here to buy gift baskets online