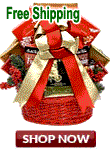 Christmas Gift Baskets Online
Promotional Gift Baskets, Gift Ideas and Corporate Business Gift Delivery
Unique corporate gifts are the best way to enhance any business image. Carefully selected corporate gift baskets and gifts are considered to be the perfect way of setting the company apart from the competition. Corporate gift planners must carefully consider their customers and clients and strive to ensure that the gift selection will be one that will create a lasting impression on the recipient.
Our business gift basket designers strive to design unique holiday gift baskets and corporate gifts. Holiday gift baskets and prefect business presents are specifically designed in such a manner to help the company establish lasting relationships, generate more sales, thank their employees, convey gratitude to clients and as a means of romancing potential customers.
Business gift baskets have proven to be a vital tool in establishing strong, long-term relationships with customers and clients helping to ensure the continued success of the business.
Adorable Gift Baskets provides an excellent media for companies and businesses to browse through a multitude of promotional gift baskets in the comfort of their own office or home.
Client gifts are important presents you should not overlook. Be sure to let your customers know you appreciate them with a wonderful gift basket of goodies to enjoy in the office or at home. It isn't the cost or the present but the thought that counts
Consider these client gift ideas:
Business Holiday Themed Gift Baskets
- Look for sets with Christmas goodies, Christmas favorites, and crowd-pleaser baskets with a variety of treats all bundled into one gift basket. Christmas cookie baskets can be the perfect present for clients in an office setting where everyone can share the goodies. Holiday baskets with an assortment of items like cheese and sausages, rum cakes, chocolates, cookies, torte, and other goodies are perfect as gifts for a crowd.
Chocolate Themed Gift Baskets
- Chocolate gift baskets often make the perfect presents for clients and customers. From chocolate truffles to cherry cordials and a wide assortment of dark and milk chocolates, nut clusters, and so much more, you really cant go wrong with chocolate gifts. From a single client to an office-full of customers, you can really make someones day with this great gift idea.
Gourmet Meat & Cheese Gift Baskets
- Classic meat and cheese gift baskets are wonderful for just about anyone, family, friends, coworkers, or clients. You can find a wonderful gift basket to brighten the office environment with a delicious selection of snacks to enjoy. Find tasty treats like Wisconsin cheese cheddar or Swiss, and summer sausage or summer salami, pepperoni, crackers, and other meat and cheese delicacies.
Coffee Gift Baskets
- Coffee gift baskets are another style of holiday gift that can bring enjoyment to the right recipient. Think of writers, teachers, and business people or anyone who enjoys a cup of coffee here and there. You can also choose gift baskets with all the fixings for hot chocolate, or simple baskets themed specifically for the holidays if you aren't sure that your recipient is a coffee fan. Look for gift sets with a variety of flavors and fun coffee accessories.
Christmas in Italy Italian Food Gift Basket
- A gourmet Italian themed gift basket containing unique pastas, sauces, and seasonings can be the perfect gift for a special client. Usually you can find a very cute set with a fancy pasta strainer instead of a wicker basket. Pair this with a bottle of wine for your favorite client and they will be all set for a wonderful and romantic holiday dinner.
Consider these top five gift basket ideas for your valued clients and customers! They will be touched with your holiday sentiments and the kind gesture.
Click here to buy gift baskets online.