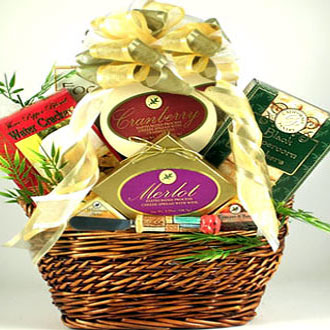 Send gourmet food gift baskets, gifts and packages by mail
Shop online for gourmet food gift baskets filled with the most sought after gourmet delicacies. Choose from chocolates, snacks, cheese, cookies, candy and fine gourmet food perfect for all occasions.
Send gourmet gift baskets to clients, share the love, and bring joy during any big event, whether large or small. Adorable Gift Baskets offers edible gifts decorated with colorful bows and ribbons with a hint of elegance in every gourmet arrangement.
At Adorable gift basket website, you'll find gourmet gift baskets with cheese, meats, coffee, tea and many other delectable snacks. Gourmet food gift baskets may also include chocolates, truffles, peanut brittle and delicious treats for the sweet tooth.
If you need to express thanks to an existing client or woo a new customer, a great way to build loyalty is to have Adorable Gift Baskets ship a gourmet food basket directly to your client's office or work site. Send a gourmet food gift basket to show your thoughtfulness. It is sure to bring tasty delight as your client explores all the hidden treasures inside.
Planning a company party or picnic? Adorable Gift Baskets has the perfect large gourmet food gift baskets for the event. These contain a healthy-sized blend of gourmet goodies so everyone attending is sure to find their favorite treat.
Gourmet food gift baskets are also perfect for Mother's Day and Father's Day
Even if you live a long distance from your parents, you can have the gourmet basket delivered to their doorstep. Simply browse our gourmet basket selection to find a gift filled with your mom's or dad's favorite foods.
We provide beautiful gourmet food gift baskets in special arrangements for housewarming gifts, thank you gifts, greetings, breakfast in bed, sickness, new baby arrivals, holiday baskets, hors d-oeuvres, Italian foods, kosher snacks, spices, and even a special grill-out gift. Our healthy gourmet baskets are available with low-fat gourmet foods such as key lime cookies, stone wheat crackers, fruit bars, low carb bars, sunflower seeds, herbal tea, soy chips, and chicken noodle soup.
Adorable Gift Baskets enables you to choose from numerous gourmet food basket assortments so your gift will be truly unique to the needs of your recipient. Whether for the holidays, a corporate gift, or any other occasion, you can order our baskets easily and affordably year round!
Click
here
to view our gourmet gift baskets!