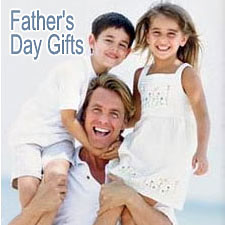 Father's Day gift baskets make a wonderful gift for Dad on Father's Day.
Search Adorable Gift Baskets online gift basket store to you'll find dozens of beautiful baskets filled with gourmet treats and keepsake gifts with sport themes such as golf, fishing, horse enthusiast and many other manly sport or activity themes.
This year show your dad you care with a gift basket filled with keepsake gifts, gourmet food, tasty snacks, plus sweets and treats that he can really sink his teeth into.
Let's Take a Look at Different Types of Father's Day Gift Baskets for Dad.
Instead of the some old classic Father's Day gift, choose a glorious theme gift basket filled with keepsakes that become part of your Father's Day gift. This is a great way to tie in a theme and gives your dad something he can keep long after the food is gone. Here are a few examples:
•
Sports Gift
•
Golf Baskets
•
Fishing Gifts
•
Cutting Boards
•
Garden Baskets
•
Snack Baskets
Choose Snack Food Gift Baskets Dad Will Love
You can choose from a huge assortment of gift baskets for Father's Day filled with tasty gourmet foods; a gift that will be much more appealing than the traditional tie, shirt or some cutesy gift for Dad. Plus, scrumptious gourmet snacks will be a lot more satisfying for a hungry father.
The great thing about a food gift basket is that it transforms even the most ordinary items into a beautiful, unforgettable gift package, so if your dad loves cheese, crackers, sausage, nuts, hot and spicy foods, sweets and treats he will love to receive one of our wonderful gourmet food gift baskets this Father's Day. After all, it is his special day and he deserves a special gift.
Here is a list of just a few of the tasty food items that can be found in our Father's Day gift baskets. Just browse our gift baskets, click the image for a bigger picture and a list of the contents of each basket.
• Bars or bags of his favorite candy
• Meat sticks & cheese
• Packaged cookies and crackers
• His favorite beverages
• Chips, pork rinds or microwave popcorn
• Jars of salsa
• Packages of nuts, trail mix and seeds
• Dried or fresh fruit
• Coffee and much more!
Pick a Gift Basket Theme that Matches Your Dad
Your dad is unique so you should choose gifts that reflect his own personality. Is he an avid fisherman or golfer? Does he love horses? This year your dad won't have to act surprised when you shock him with a wonderful Father's Day gift basket that he will really enjoy.
Fisherman:
If your dad loves to fish, he'll appreciate gifts that are more practical than teddy bears and talking fish. Fill a tackle box or fishing creel with a filet knife, pliers, angler magazines, fishing lures, lake maps and other accessories for a gift your dad can use for years to come. Fishermen spend long hours in remote places, so be sure to add lots of protein-filled snacks such as nuts and meat sticks.
Sports Fan:
Clothing with your dad's favorite team logo is always a hit. You can also find professional sports logos on things he can use every day, such as tape measures, grilling accessories or glass wares. Team sanctioned merchandise can be very expensive so a less expensive option is to simply fill a team bucket or waste basket with his favorite snacks so he's ready to kick back and watch the big game.
Car Guy:
Does your dad obsess over old cars or a particular make and model? You probably can't afford to buy him a real 66 Mustang, but you can still give him a little bit of his dream. Specialized key chains, magazines, calendars, model kits, license plates and remote controlled cars are all fun ways to help him indulge his automobile passion.
Hobbyist:
Whether your dad likes painting model planes, tinkering in the garden or building birdhouses, he's sure to love a gift that will keep him busy with his favorite hobby. Choose a kit or design plan that fits his craft and buy the tools and accessories he'll need to complete it. If you enjoy the same hobby, consider selecting a project the two of you can work on together.
Grill Master:
Does your dad think he's king of the family grill? If so, fill a cooler or beverage bucket with grilling utensils, a chef's apron, specialty rubs, sauces and a grilling cookbook and he'll be cooking in style all summer long. Don't forget to add his favorite beverage and a few snacks he can enjoy while he's slaving over that hot grill.
Camper/Outdoorsman:
If your dad's idea of a vacation is sleeping in a tent give him a gift that caters to his inner woodsman. Fill a Dutch oven with an outdoor cookbook along with the ingredients for making bean soup or a tasty dump cake over an open fire. Add his favorite coffee, cracker barrel snacks and the ingredients for s'mores to give him the ultimate camping experience.
This year your dad won't have to act surprised when you shock him with a wonderful Father's Day gift basket that he will really enjoy.
Click here to buy Father's Day gift baskets.