Easter Decorating Ideas, Fun Games, Tasty Easter Recipes To Help You Celebrate Easter
Easter Decorating and Tips
: Welcome Spring with Easter Decorations for Your Fireplace
Easter Holiday Trivia
- Sure you decorate your fireplace and mantel for the winter holidays, but don't forget this important focal point in your room as Spring approaches. Below are some nearly-instant ideas for springtime and Easter fireplace decorating.
Easter Flowers and Gifts

Daffodils in crystal or glass vases on each end of your mantel bespeak the coming of Spring. Tie a wired chiffon ribbon in a soft spring hue in a bow around each vase for a nice touch.

March a line of fluffy chicks across your mantel. Five or more chicks, whether stuffed toys, porcelain hens, or craft store chickens, make a cute display.

And speaking of stuffed toys, now is a great time to find those old stuffed bunnies and ducks and turn them into mantel ornaments. Add Easter grass, and scatter decorated eggs along the mantel to keep them company.

Tie wired gingham-checked ribbons into bows, and attach them to the edge of your mantel. Let the ends of each bow hang down various lengths from one to three feet. At the end of each ribbon, open a plastic egg, tape the ribbons end inside the egg, and force the egg shut. This creates a set of eggs dangling at different heights.

Bring out your glass, crystal, white, and pastel candle holders of different heights for your mantel. Select a trio of springtime colors such as lavender, pink and eggshell or aqua, pale green, and soft yellow. Use pastel candles in some of the candle holders. In others, perch decorated Easter eggs (real, plastic, wooden, or glass).

The ideas above are great for your fireplaces mantel, but what's a terrific way to decorate your fireplace itself? Fireplace candelabra are the perfect accessories. And using candles in the shape of decorated Easter eggs in your fireplace candelabra is a super-simple, but visually dramatic way to decorate for the season.
(Just don't be too surprised if the Easter Bunny replaces one of the candle-eggs with a chocolate one!)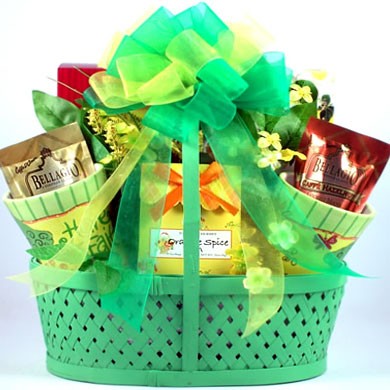 Basket Of Blessings
- $70.00
This beautiful handcrafted basket of blessings Christian gift basket, filled with touching gifts and tasteful treats, is truly an inspirational gift to lift the spirit for any occasion. Make a difference in someone's life today by sending this thoughtful gift basket of love, hope, faith, remembrance, and comfort. A great gift for Easter, sympathy, get well, comfort, condolence and healing.
Includes:
Orange Spice Tea

two pouches of flavored gourmet Mochas

Cinnamon Tea Cookies

Chocolate Dipped Nut crusted Biscotti

Assorted Chocolate Cookies

two large "Serenity Prayer" ceramic mugs

reusable handcrafted basket
View more thoughtful gift baskets with free shipping