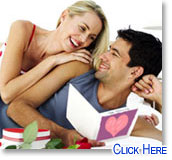 Adorable Gift Baskets can help you fill the air with romance for your spouse, girlfriend or boyfriend with romantic gift baskets delivered directly to their door. When romance is in the air, it's time to lavish them with all the luxuries they desire. Our romantic baskets contain items and foods designed to excite the senses and to deepen their love for you.
Romance Her With The Perfect Dozen
- Our six stunning long-stemmed roses topped with a half dozen romantic "I love you" mylar balloons and they'll be walking on air! Fresh, red roses in a glass vase with delicate florals and greens.
Romantic gift baskets
gifts and presents to pamper the one you love come in all shapes and sizes, and they can be practical, romantic, relaxing, and fun.
Give her a romantic gift basket anytime you want to remind them of your passionate love. Romantic gift baskets can come packed with a stuffed animal, cookies, spa bath products, chocolates, and other unique gifts. Adorable Gift Baskets can even deliver your special gift basket right to their door with a love note as an added gesture.
Want to set the mood for romance on your wedding anniversary? She'll adore one of our luxury spa gift baskets or an "I love you" teddy bear gift. Adorable Gift Baskets also features deliciously-baked cookies packaged in a creative gift basket for those special romantic moments. Or, you can say "I love you" with chocolate. Chocolate can melt almost any woman's heart, and one of our Ghirardelli chocolate gift baskets is sure to capture her affection.
Romance her with a breakfast in bed basket filled with breakfast treats such as coffee or hot tea, strawberry jam, cookies, pancake and waffle mix, honey, and more. If she's not really a morning person, plan a lunch picnic for just the two of you at her favorite scenic park. Spread out a comfortable blanket and surprise her with a picnic gift basket, fragrant roses, and two wine glasses with her favorite beverage. And don't forget the romantic music CD!
Another way to express your love is to surprise her with a vacation for two. Have a romantic gift basket delivered to her at the home or office along with an invitation to accompany you on a romantic getaway. If visiting a beach resort area, send her one of our romantic beach towel cakes. These come with a beach towel rolled to resemble a cake as well as several Sea Spray spa products
Romantic gift baskets delivered to the love of your life can also work wonderfully for marriage proposals, holidays, or any time you want to say "I love you!"
Adorable Gift Baskets provides a variety of romantic baskets to meet every need. You can deliver just the right message of love with a romantic gift basket and never leave your computer desk.
Click here to send a romantic gift baskets online