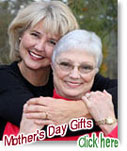 Every year you agonize over the perfect Mother's Day gift only to end up buying the same old roses or chocolates. Flowers and candy are nice, but why not show your mom you've actually put some thought into her gift this year? Creating your own gift basket is a way to pack a lot of thoughtful goodies into one beautiful package without breaking your bank account.
Choosing Your Container
Your gift basket doesn't have to be large to make a big statement. In fact, a container that's too big may leave you with an empty-looking basket. A smaller container makes it easier to arrange all of your gifts into a symmetrical design and gives it a much fuller look. It also allows you to hide a few items, giving your basket a bit of mystery.
Keep in mind your container doesn't have to be an actual basket. Almost anything can be used as the base of your gift, so unless your mom collects baskets, consider choosing something she'll use again.
Choosing Your Gift Items and Theme
Think about all the things your mom loves. Does she have a favorite tea, coffee or candy? Is she interested in cooking, knitting or scrap booking? Does she love to read or listen to music?
Choosing items that let your mom know you're paying attention will mean a lot more than flowers or expensive jewelry. One way to do that is with a theme basket. Below are some theme ideas to help you get started.
Spring/Garden Theme
:
If your mom loves to garden, a spring theme could be the perfect choice. Use a flower pot or planter and fill it with items such as garden gloves and tools, seed packets, gardening magazines, a watering can or whimsical wind chimes.
For a slight twist, give your mom an herb garden. Buy a window planter, organic potting soil, decorative plant markers and three or four of her favorite herb plants. She can place it in her kitchen for fresh herbs year round.
Destination Theme
:
You may not be able to send your mom on her dream vacation, but you can bring a little of her favorite destination to her. Travel books and magazines, imported food and wine and movies set in her dream location will let her get away without ever leaving the house. Use a keepsake or photo box decorated with her favorite locale and she'll have something to enjoy long after the perishables are gone.
Hobby Theme:
If your mom is the crafty type, she will love a gift that centers around her hobby. Whether her favorite pastime is knitting, scrap booking or journaling, choose items you know she'll use. Consider packing them in a pretty tote so she can take them with her wherever she goes.
Tea or Coffee Theme
:
Does your mom enjoy her afternoon cup of tea or coffee? A basket filled with a variety of teas or coffees, chocolates, shortbread cookies and crackers will make her daily ritual even more special. Include a special cup with a matching saucer or tea bag holder for a gift she'll treasure for years to come. If you want to go with a smaller gift, use a tea pot or oversized mug as your container.
Spa Theme
:
If your mom is busy taking care of everyone else, encourage her to pamper herself for a change. Choose items such as loofah sponges, fluffy slippers, bath salts, candles and body washes in her favorite scent. Top it off with a relaxation cd and a book by her favorite author for a truly enjoyable experience.
Putting Your Basket Together
Once you have your container and your gift items, you're ready to put them all together. Line the bottom of your container with shred, filler or even crumpled newspaper to create a base. Place your items into the container, starting with the largest ones first. Work your way from back to front, letting the items lean against each other for support.
Once you have all the items situated, wrap the package with cellophane or a shrink wrap bag. Shrink wrap bags are great for holding everything in place and you can usually find them in hobby stores or online. To shrink the bag, turn your hairdryer on low and gently sweep the hot air over the bag until it tightens into place. Be careful not to hold the dryer in one spot too long or you'll end up melting the plastic.
Once your gift basket is wrapped, tie up the top and add a pretty ribbon or bow. You now have a thoughtful Mother's Day gift that's almost as unique as your mom.
No time to do it yourself? No problem. We have a wonderful selection of delightful Mother's Day gift baskets ready for delivery. Click
here
to view.
Click here to buy Mother's Day gift baskets online