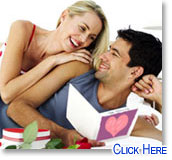 Valentines Day Gift Baskets
and Romantic Valentine Gift Ideas Catering To Romantic Impulses And A Taste For Fine Things.
Send incredibly romantic gifts for Valentines Day, anniversary, weddings, loving gifts for a special couple, engagement and newlywed gifts.
Buy gifts for lovers and people in love, a secret lover, bridal shower gifts, and Valentine's day gifts designed to romance, spoil and pamper your love.
Surprise the one you love with romantic Valentine's Day gifts. From our lavish spa baskets to soft flickering candles, our Valentine gifts are meant to initiate love and romance.
Choose romantic Valentines, gourmet food, chocolates, breakfast in bed, pamper bath, candles, roses and more.
History of Valentine's Day
Lovers through the ages have taken this day as their own - a day to celebrate the finest human emotion. The reason for celebration is ageless, but it was much later that a great lover gave the day his name.Read more...
Romantic Dating Advice
This Valentine's Day men and women across the country have some big decisions to make when it comes to expressing their feelings. No longer are the carefully crafted words in a drugstore card the only way to go. Read more...
Valentine's Day Flowers
Keep your Valentine thinking of you long after the date is over with a dozen red roses.Read more...
Click here to shop now!