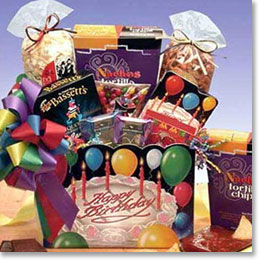 Do you regularly rush
around in your lunch break, desperately seeking a birthday gift? Do you just grab the first suitable birthday card that you see, because you are so short of time? If so, then the chances are that you are spending more money than you need to on birthdays. The good news is that, with a little forward planning, you can save not only money but alsotime.
Shopping for birthdays
can be time-consuming and expensive. Even if you have just one birthday a month to shop for, the cost of twelve birthdays a year can add up to a fairly substantial amount. If you have children, you will have the extra cost of buying presents and cards for all of their friends. Here are some ways of saving money, as well as time, when shopping for birthdays.
Never leave birthday gift
shopping until the last minute. If you are in a rush, you will buy the first suitable gift that you see and that will often be the most expensive. You may also end up buying an individual card, gift tag and a single sheet of wrapping paper, all of which add up to a high cost.
Invest in a birthday organizer
so that you will always be prepared in advance for birthdays. Look out for a special birthday organizer that has daily spaces for recording birthdays, and 12 monthly pockets for storing cards and gift tags.
If you don't want to buy
a birthday organizer, you can make your own by labeling the months of the year on a 12-pocket concertina file. Write 12 monthly lists, in date order, of people's names and birthdays. Put each list into the relevant pocket, so that you can collect birthday cards and related items in the same pocket.
Organize your birthday shopping effectively
by taking out your birthday organizer at the beginning of each month and looking at the next month to see how much more you need to organize for the birthdays that month. For example, at the beginning of January, look at the February birthdays and make a list of all outstanding items. That will give you enough time to shop around for the best deals on birthday gifts and related items.
Regularly watch for cost-effective
gift items throughout the year. For example,
Adorable Gift Baskets
offers
free ground shipping
on a large selection of unique birthday gifts and
birthday gifts baskets
that are just perfect for birthdays. Adorable Gift Baskets also offers money-saving discount coupons throughout the year. Discount coupons coupled with the free ground shipping adds up to be a tremendous savings. You will find
gift baskets for women
filled with luxurious bath and body products, candles, books and more. A huge selection of unique
gift baskets for men
means that you will can find birthday gifts for dad, son, father, boss and every special man on your gift list. And, of course, those adorable gift baskets and
gifts for children
will win the hearts of all the little ones on your gift list.Gift baskets arrive beautifully wrapped and ready for gift giving. If you keep your eyes open and regularly visit Adorable Gift Baskets you are sure find great bargains and you will be surprised at just how many suitable birthday, and all occasion, gifts you will amass at a very low cost.
Shop in the January and Summer sales
for gifts, cards, wrapping paper, ribbon, tags and any other items that you will need for birthday gifts during the rest of the year. Once you have brought your items home, file the cards and tags in your birthday organizer and store all of the gifts, wrapping paper and other items together in one place, so that you will always be able to find them quickly and easily when the next birthday comes around. If you wish, you can wrap and tag the birthday presents and write the cards in advance, so that when a birthday comes around, all you need to do is take out the relevant gift and card.
Buy in bulk if possible –
Rolls of wrapping paper are much less expensive than single sheets. Buy several rolls of wrapping paper to suit each type of person for whom you buy birthday presents. For example, you could select one roll that would appeal to women, another for men, a third for small children and a fourth for older children. That way, you will always have an available supply of wrapping paper to suit each present that you give.
Try to buy birthday cards
and gift tags in packs of ten or more. Not only will you pay a lot less than if you bought each one individually, but you will save time, as you will always have a birthday card or gift tag to hand.
If you follow these tips
, then, not only will you never dash around in a mad panic looking for birthday gifts at the last minute, but you will save time and money and feel much calmer. Search for the
unique gift basket gifts
now.
Click here to shop now!