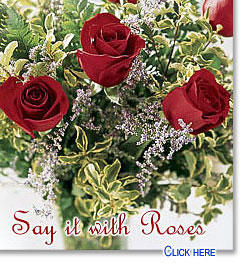 Valentine's Day Flowers
to Fit any Relationship
It is an unspoken rule that flowers are an essential gift on Valentine's Day to show that special someone how much you care. But for many, the pressure of picking the right flowers can ruin the whole sentiment of the day.
A dozen red roses
may be a classic symbol of true love and desire, but if your relationship is new, you may want something less serious and more fun. FTD Master Floral Designers Jeff Corbin and Keith White teamed up to give you some tips on picking appropriate flowers for your relationship status and going beyond the standard dozen red rose bouquet.
First Date Valentine's Day:
A first date is exciting and fun, but it can also be nerve-racking and scary. Valentine's Day only adds pressure to the planning of a first date. It's easy to make a great first impression by bringing flowers. The key is to go bold and simple, but not overwhelming.
Jeff and Keith suggest a large lily-hybrid such as a stargazer for a first date. As the name would suggest, a stargazer has bright pink petals in the shape of a star and trimmed with white. Since the flowers are large, it only takes a few to make a beautiful, sexy statement to your date. The scent won't fade quickly either so your Valentine will be thinking of you long after the date is over.
New Relationship Valentine's Day:
Often called the "honeymoon period," this stage is characterized by light-hearted good times and endless supplies of laughter. This is your chance to relive the days of your schoolyard crush and go cheesy romantic with the flowers.
Again, keep the flowers simple. Colorful daisies or carnations are fun, or you could do a small mixed bouquet, but stay away from too much greenery and baby's breath. Jeff and Keith suggest combining flowers with a small assortment of gifts like boxes of chocolates, balloons, a stuffed animal or a greeting card. You want to have a range of gifts for this stage of a relationship. Remember, the focus is on having a good time and making your Valentine smile.
"I love you" Valentine's Day:
Okay, so you've been dating for a while and the big "L" word is out of the bag. Likely, you've been through a few bumps in the road together. It is now appropriate to go back to the roses, say Jeff and Keith, but try to look past the traditional red to show your love and appreciation.
Think about the whole presentation of the flowers, meaning pick out an interesting vase and accents to accompany the flowers. For a personal touch, start with roses in your Valentine's favorite color. Then add in other flowers of varying sizes along with floral accents in similar shades. If you don't know exactly what additional flowers or vases would look good with your roses, go to www.FTD.COM to find your local FTD florist to ask for suggestions. This is your chance to celebrate your Valentine's personality and style.
Soul-mate Valentine's Day / Long Forgotten Valentine's Day:
If you have been in a serious relationship for years, Valentine's Day may have become just like any other day. Perhaps your Valentine isn't even expecting anything from you. Surprise your Valentine with a unique bouquet, and celebrate the love that has kept you together all this time.
Jeff and Keith suggest this year's hottest trend --deep, orange red roses mixed with Milva roses, which are a brilliant orange color and gradually fade to a golden orange near the edges of the petals. You can add some Protea, which looks like a big pincushion, in a complimentary shade or some Hypericum berries, which resemble Christmas holly berries. A rough stoneware or rusted metal vase puts the finishing touch on this exotic bouquet.
Looking for something truly unique? Jeff and Keith suggest a twist on the traditional red rose bouquet by using Black Baccara roses. They aren't black at all. In fact, they are full blooms saturated in a deep burgundy color. Accent your roses in a low deco style vase with some Queen Protea and Safari Sunset Leucadendron, which is an exotic looking plant with earthy hues. The rich, deep colors are the perfect way to say, "I still love you."
History of Valentine's Day
Click here to shop now!