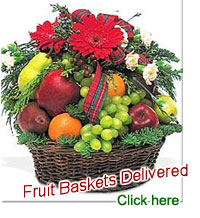 Holiday Fruit Baskets by Adorable Gift Baskets
Holiday fruit baskets are great for any holiday or occasion. They can be given any time of the year, and are particularly popular during the Thanksgiving and Christmas season. The great thing about giving holiday fruit baskets is you can prepare and shop ahead of time as a certain holiday nears. Here at Adorable Gift Baskets, you can place your order online and secure a fruit gift basket well in advance. This helps you avoid last-minute shopping and gives you peace of mind knowing your gifts are on the way to your home or to your loved one's doorstep just in time for the holidays.
Holiday fruit baskets come in many shapes and sizes. Some of our baskets combine fruit with other goodies such as gourmet snacks, nuts, and chocolates. Others combine only fruit and nuts. There are also fruit-only gift baskets for that special someone who can't eat other types of snacks. These baskets work well for diabetics or anyone with a medically-restricted diet.
Need a holiday gift for a co-worker? Holiday fruit baskets are great because they show you care even if you're not sure what other gifts your friend might like. If you own a company, you might want to share the wealth during the holidays by giving extravagant gifts to your employees. Holiday fruit baskets along with a nice "bonus" will surprise each employee and let them know how much you appreciate their hard work throughout the year.
You might want to have a holiday fruit basket delivered to a special business client, your pastor, or even your favorite teacher. The fruit arrangements at Adorable Gift Baskets provide the right blend and size to fit your gift needs and budget. Other holidays that may call for a holiday fruit basket are Easter, Valentine's Day, St. Patrick's Day, July 4th celebrations, and Hanukkah.
Holiday fruit baskets are colorful and cheerful, and they contain a variety of fruits including apples, oranges, tangerines, grapefruit, bananas, pineapple, and grapes. They are decked with festive ribbons, Christmas holly and fir, and other ornamental items. Some of our holiday fruit baskets even include a beautiful plant. The actual baskets are lovely (many made of wicker) and can be added to anyone's home decor after they've finished off all the treats inside!
Whether you need to surprise a loved one at a holiday family gathering or ship a holiday fruit basket to a distant relative,
Adorable Gift Baskets
has just the right gift for you!
Click here to shop now!