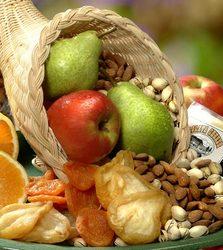 Thanksgiving isn't only a time of sharing with the ones you love; it's also a time to express thanks to God and to those you feel have been a blessing to you along life's way. A great way to express appreciation is to send a Thanksgiving gift basket from Adorable Gift Baskets. Thanksgiving baskets have an autumn-like theme with fall harvest colors and treats that are perfect for the occasion.
Share the warmth of Thanksgiving with anyone you want to surprise or bring along a Thanksgiving gift basket to a family or office gathering. Turkey might be the main course of your Thanksgiving meal, but who says you and your loved ones can't enjoy some delectable goodies after the big meal? At Adorable Gift Baskets, you'll discover a variety of Thanksgiving holiday baskets filled with foods such as gourmet cookies, caramel corn, almonds, chocolates, garden herb and vegetable dip, caramels, crackers, olives, and other mouth-watering holiday delights.
Many of the Thanksgiving gift baskets at Adorable Gift Baskets include gourmet coffee or hot herbal tea, which can warm the heart of your recipient. You might decide to present a basket as a gift to the host of your Thanksgiving party, or surprise your spouse on Thanksgiving morning with a basket garnished with their favorite fall items. Many of our gift snacks come packaged with fall themes such as colorful leaves in brown, orange and red.
Adorable Gift Baskets offers finely crafted wicker baskets, fall leaves gift boxes filled with Thanksgiving snacks, a fall harvest gift tin, fall flower arrangements, and even an autumn cornucopia filled with beautiful flowers. If your recipient prefers fruit, opt for one of our heart-warming Thanksgiving fruit baskets. With so many choices, it's easy to pick a basket that's appropriate for your friend or loved one.
Thanksgiving gift baskets are also wonderful for sending greetings to a distant loved one during the holidays. A lovely basket that will make them smile is our Thanksgiving Gourmet Food Gift Basket, which features a little of everything: a honey willow basket with autumn decor, sparkling apple cider, a Wisconsin cheddar cheese round, grained mustard, summer sausage, gourmet coffee, cheddar cheese popcorn, chocolates, a cookie, cocktail rye bread, and more.
Adorable Gift Baskets can have a Thanksgiving gift basket delivered to your loved one just in time for the holiday event, or we can deliver it directly to you if you'd prefer to deliver your gift in person. With our vast fall and Thanksgiving basket selection, it's easy to delight your loved one during this special time of thanks!
Click here to shop now!