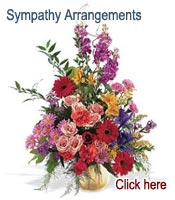 Sympathy Gift Baskets Delivered
During times of grief, sometimes there seems to be no words to say. But with sympathy gift baskets by Adorable Gift Baskets, your heartfelt gift will say plenty. We provide a simple way for you to have sympathy gift baskets delivered to a loved one's home to demonstrate your love and sympathy during their time of loss.
Sympathy gift baskets make wonderful companion gifts with flower arrangements or plants. You can also deliver a sympathy gift basket by hand with a meal you've prepared for the family. Large sympathy gift baskets can provide easy snacks for visiting family members and their children during a time when your loved one is unable to entertain guests.
A bereavement basket goes a long way during this time of sadness and can be filled with a variety of items. There are baskets with inspirational books of comforting words, Bible verses, or poems. Some sympathy baskets contain gourmet foods such as cookies, coffee, cashews, bon bons, pistachios, crackers, cheese, and other delightful treats. Some baskets feature fruit and nuts or only fruit with a flower or plant. There are also chocolate baskets and sympathy baskets featuring keepsakes to cheer your loved one.
At Adorable Gift Baskets, each sympathy basket is beautifully decorated with ribbons, bows, and other decorative packaging with a variety of colors and basket designs. Your loved one might also appreciate a Quiet Moments Gift Mug or a relaxing aromatherapy gift basket.
If you own a company, you can have sympathy gift baskets delivered to employees or clients that have recently lost a loved one. Sympathy gift baskets are also fitting for a grieving mother that has recently lost her baby through a miscarriage. You can have sympathy baskets delivered directly to your distant loved ones when a death occurs.
Bereavement gifts by Adorable Gift Baskets enable you to express your condolences with quality products and foods at a moment's notice. With our affordable pricing and special shipping offers on select baskets, you can quickly shop online for the basket that best fits the needs of your loved one.
Click here to shop now!