Hats Off To Moms Everywhere. Mothers Don't Ask For Much.
Let Mom Know How Much You Love Her!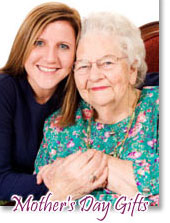 Sometimes in our busy lives we tend to forget the most important things. What with working and raising a family of our own we fail to stop and smell the roses so to speak. There are many people in our everyday lives mean a lot to us but none as important as our family. We need to stop everything for a while and pay tribute to the one member of our family who has done so much for us. Our Mothers!

In my younger days I recall my mother doing the duties of three or four people. Coming from a family of thirteen kids, I did my part under the direct supervision of my mother. We lived on a farm so there was much to do and many mouths to feed. There was cooking, cleaning, canning, butchering, and mother also went to the fields with my father to plow, cultivate, and plant seed. Then there was hay to haul into the barn, along with harvest the crops when it was time. We also had a large garden and mother helped us weed, hoe, plow and pick vegetables. It just seemed there was never enough hours in the day. We sold eggs and fresh dressed fryers (we butchered and cleaned about 300 each summer). As I look back today I often wonder how she ever did it.

I know that my mother wasn't the only mother who worked hard but she is my idol and is a good example of a dedicated mother. Now I think it is time to salute all of the moms out there who have spent the better part of their lives helping others. They certainly deserve a lot more credit than we give them most of the time.

You hear of people multitasking on the computer or on the job, but none of those compare even a little to the multitasking of a stay at home mother. Not all mothers worked in the fields or washed clothes on a washboard and in a wringer washer with a baby on her hip, but they were there for us and they made sure we had food in our tummies and clothes on our backs. How many nights
did they sit by our beds when we were sick and still have breakfast ready when we got up in the morning. And when I say breakfast, I mean eggs, sausage or bacon, pancakes, hash-browns (and not out of a box or package), along with fresh homemade biscuits and gravy. When and if she ever got sick, we didn't know it because she performed her duties as normal. With a baby on one hip and expecting another one, and stirring the gravy too. If that doesn't deserve respect, I don't know what would.