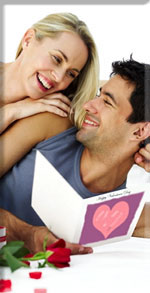 This Valentine's Day
men and women across the country have some big decisions to make when it comes to expressing their feelings. No longer are the carefully crafted words in a drugstore card the only way to go. E-cards, instant messages, even text messages, are all ways to send romantic thoughts. In fact, sending a text message from a cell phone to share romantic feelings is on the rise, according to the first annual T9 Texting Outlook Survey. Sixty percent of those who sent text messages have sent one to tell someone they love them or miss them.
Meanwhile, 27 percent have sent a flirtatious or sexy text message and 26 percent have used cell phone text messaging to say "Happy Valentine's Day." Seven percent have even sent a text message to ask someone out on a date – so keep that phone charged up at all times!
Given the rise in text messaging, which is now used for breaking up, making up and for asking out dates, Tegic Communications teamed up with John Gray, author of best-seller "Men are from Mars, Women are from Venus" and AOL Love & Sex Coach, for texting tips to help ensure successful coupling in 2006.
Texting and Dating: Top Ten Do's and Don'ts
DO reply to a cell phone text message in a timely manner. No one wants to press "send" only to be left waiting (and waiting) for a reply.
DON'T read too much into whether he or she has (or hasn't!) signed off with X's and O's for kisses and hugs.
DO carefully consider the effect your text message is going to have on the reader. Send a note that will put a smile on her face, not leave her wondering why she gave you her number in the first place.
DON'T overuse emoticons, such as smileys, and text speak, and make sure the recipient knows what you mean. You don't want to scare off a potential date who thinks you mean "lots of love" rather than "laugh out loud" when you type LOL.
DO wait until at least the third date before you engage in "textual relations" with a new love interest. Be sure sexy or intimate texts are well-received before firing off note after note.
DON'T assume he is awake and of sound mind just because you are. If you receive an outlandish reply at 3 in the morning or no reply at all, wait 12 hours and try again.
DO flirt and send love letters via text. But be careful about sending texts that you wouldn't want read by anyone other than the intended recipient.
DON'T read too much into failure to reply to your text message. However, if you've texted three times without a reply, it may be time to move on.
DO make sure you're sending a text message to the right person in your phone book. It will be uncomfortable to learn you've sent some hot and steamy love notes to your grandmother.
DON'T be a bad speller. It makes less of an impact on the intended to learn that you want to "kips" rather than "kiss" them.
T9 predictive text software anticipates the word that a user is entering as they press a key just once for each letter. For example, typing "love" requires just four keystrokes (5-6-8-3) instead of 11 when tapping out letters individually. And "Valentine" can be reached in 9 steps instead of 19.
For users new to predictive text entry on cell phones, check out www.textfast.T9.com. - ARA
Click here to shop now!