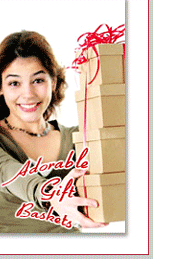 What is a gift tower?
Gift towers are elegant gift boxes stacked high and filled with fine, tasty gourmet food treats and confections tucked inside each dazzling box.
Gift Towers
Make Unique Corporate and Personal Christmas Gifts, Thank You Gifts, Get Well or Congratulations Gifts.
Send Gift Towers
For All Gift Giving Occasions To Employees, Secretary, Administrative Assistants, Receptionist, Staff, Family and Friends.
Mary of Falls Church, VA. writes...
"Hello, I would like to acknowledge your great and prompt customer service and thank you. I believe this is the best overall service I have ever received from an online shopping experience (and btw, I value this as my company is in the consumer internet space--we bond online sellers so their buyers know they are trusted sellers, etc.). In any event, thanks for the great service and be assured that folks like me do appreciate it, even if many folks don't always say thanks!! And, you are really helping to differentiate your company from others by being so customer service focus. Keep up the good work!!"
Read more....
Click here to shop now!