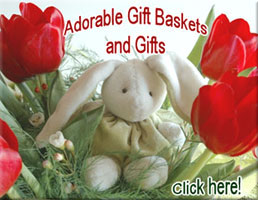 Easter Gift Baskets
, Unique Easter Basket Gifts and Presents to bring your family together and create beautiful Springtime memories.
Easter Fun Trivia
- Over two billion dollars is spent on Easter
candy each year in the US alone. 74% of children eat the ears off their chocolate Easter bunny before eating any other part of it. 10% eat the feet first and 13% eat the tail first. The most popular Easter candy is chocolate eggs. The favorite flavor of Easter jellybeans is cherry, followed closely by strawberry. Each year there are 118 million Easter cards mailed world wide. In the US each year, there are over a million eggs found in Easter egg hunts. An Easter egg hunt is organized each year and takes place on the lawn of the White House.
Click here to shop now!