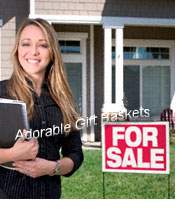 Real estate agents
, property managers, brokers and developers - this warning is for you!
It's not a warning of danger to come, but of missed opportunities for future sales; opportunities you can't afford to miss.
Whether selling a home, building a new construction or renting an apartment to tenants, it always feels great when you close a sale. You've worked with the client to reach a successful end. However, when you do make a sale, don't sit back and relax. Go the extra mile and give your client or tenant a real estate closing gift such as a "New Home" gift basket or other useful gift.
Better than "Thank You" Notes
Sending a "thank you" note is great. Many companies do this to show appreciation, and it's certainly better than sending nothing at all. But, imagine how your client will feel if a unique gift is special delivered to their home. You can still send the note of thanks, but send it along with something useful. This is what closing gifts are all about - a way to say "thanks" and be remembered for years to come.
Who Else Gets a Real Estate Closing Gift?

Clients aren't the only ones who should receive closing gifts from your company. You should also consider all those you've worked with throughout the sales or rental process. There are closing lawyers, lending institutions, mortgage companies, home improvement specialists, appraisers, insurance agents, housekeepers, etc. All those who contribute to making your real estate sales possible should receive a closing gift from you. Also, don't forget to send a gift to those who refer others to you!
Marketing Benefits of Real Estate Closing Gifts
The benefits of giving closing gifts are tremendous. One reason you'll want to make this a normal practice is it will increase your real estate referrals dramatically. Imagine the increase in leads of potential buyers and sellers if you suddenly have everyone you work with referring you sincerely to others!
*The client refers you because the purchase went smoothly AND they received a lovely closing gift from you.
*The closing attorney works with many people in real estate, even potential real estate buyers or sellers. You're the real estate agent who stands out because you show such appreciation for the attorney.
*The person who cleans the homes or apartments for you may have family and friends who are interested in buying, selling or renting a home.
*The home improvement specialist makes repairs for you, and also for others who might be getting ready to sell their home. Because of your thoughtfulness, you always come to mind when real estate conversations arise.
Another benefit is the potential of repeat business when your clients get ready to buy, sell, build or rent again. How you treat clients during and after the sale will make an everlasting impression. A closing gift makes the final impression.
More Benefits for Rental Property Managers
If you're a rental property owner or manager, giving a housewarming gift basket to a tenant is a great way to say "thank you" and to let them know you'll be there when they need you. This helps with both new tenant referrals and resident retention. You can also give gifts to those who work with you to clean or repair the rental property. Your thoughtfulness will go a long way.
With all the legal restrictions of marketing a real estate agency, you can't afford to miss this amazing opportunity. Closing gifts can be an effective tool in building a solid foundation for your business!
Click here to shop now!