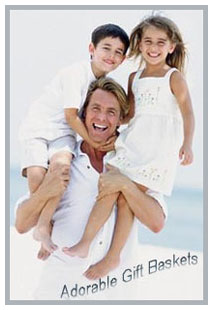 Gift-giving need not be expensive or extravagant; it need only be thoughtful and given in a spirit of true warmth and generosity to be successful.
Buying gifts for the men in your life—be they your husband, father, grandfather, son, nephew, boyfriend, or friend—can be challenging given the old stereotype that men are hard to buy for; some men are, but it usually takes a bit of thought and you'll come up with something.
The following article lists some great inexpensive ideas to help get you on the right track.
Most men love sports—and maybe you can't afford a big screen television for them to watch all the games, or maybe they've already got one—but you certainly know that they love to snack through fumbles and timeouts. On that score, buy the biggest laundry basket you can find and fill it with all his favorite snacks—from roasted peanuts to a few select import beers. You might even hide a gift certificate for a pizza from his favorite pizza place.
For the sophisticated man in your life, why not buy him a subscription to a new journal. There are magazines to suit all interests and hobbies so you will have a wide selection. He'll think of you every month it hits his mailbox.
Some men like to go out on the town from time to time. Find out what special concerts or shows are coming to your area. Perhaps you'll find one of his favorites or something new both of you can enjoy together. Consider musical recitals, rock concerts, circuses, plays, etc…The gift of your company, dinner and an evening of entertainment may be worth more to him than anything you can fit in a box.
Some men really don't want anything for their birthday or holidays—and act almost offended when you show up with your package of ribbons or bows. For these difficult men to buy for, consider doing something in their name—like making a donation to their favorite charity or adopting an animal at the zoo in their name, which is also a great gift for a child who already has all the toys they need.
Perhaps you don't want a PG-rated gift for your man. You could always have your portrait of photos taken with you posed…exactly as he likes you best. This may be slightly embarrassing, but it will make for a memorable gift.
There are always the more traditional gifts to fall back on and the men in your life may be just fine with those—the ties, shirts, golf clubs, gift certificates, etc…Whatever you choose, if you've put thought and love into it, it will show through. by J. A. Young

Click here to find great gifts for men.