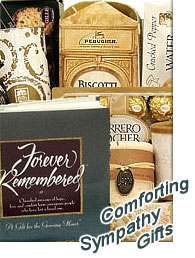 Sudden tragedies and accidents
can occur without warming in our busy world. An accident or sudden death can happen so suddenly that it takes everyone by surprise, causing devastation and despair. Car accidents, sudden injuries on the job, children getting hurt while playing - all of these can cause despair for close friends and family members in only a moment's time.
You might feel helpless if this happens to a friend or loved one, but you don't have to be.
There are ways you can help, gifts you can give such as sympathy gift baskets, and words you can say that create a bright spot during a crisis. Here are some ideas to help you become the type of person who helps others without delay. It's easier than you think.
Don't Delay Action - When a crisis hits someone you love, don't delay your actions. Have a sympathy gift basket in mind that you can order on the spot. Even online orders for gift baskets can be made around the clock. The faster you get the order in, the faster it will be delivered to your loved one.

By nature, you probably have a tendency to wait around and see what is needed, or let someone else take the initial step towards helping the person in need. What would be better is to go ahead and take the initiative. You can be ready to go as soon as you're needed, with your gift in hand or at least on the way. If at work, ask if you can leave early. If asleep, jump up and get dressed to go. If out of town, be willing to return home if necessary. Even if it's not a death situation, it could be very important to your loved one.
Choosing a Sympathy Gift Basket - Most sympathy gift baskets contain foods such as sweet candies or chocolates, fruit, crackers, cheese, sausage, homemade cookies, etc. If you know the person well, you can probably choose a basket according to their likes and those of their family. Be thoughtful when choosing the sympathy gift basket by considering their children, spouse and other close relatives such as parents or siblings. The sympathy gift basket will probably be a comfort to all those around, not just the one receiving it.

Many sympathy gift baskets contain a booklet with inspirational writings or comforting messages. Choose one that fits the occasion.
Don't Fret when Your Loved One Needs Time Alone - Often when tragedy strikes, the person asks to be alone for a while. If this happens to you, don't worry. It's not personal. Your sympathy gift basket will go a long way in showing you care even if you can't be present always.

With a lovely sympathy gift basket, you can show you care in many little ways - all wrapped in one thoughtful package. Your loved one will appreciate your caring thoughts.


Click here to send a sympathy basket.